Energy Efficiency, Resiliency, & Control
UESC, ESPC, direct service awards for the Department of Defense, the General Services Administration, and all other Cabinet-level Agencies
Federal Services
FESCO® was founded to serve the diversified energy demands of the Federal government. We have been awarded significant energy projects with the Army, Navy, Dept of Homeland Security, National Guard, Veterans Affairs, National Institutes of Health, and others. Work includes energy efficiency work under Alaskan Native 8(a), UESC, and ESPC's. FESCO has designed and built complete buildings that house vital energy systems, established modular energy structures to provide mission-critical energy supply, and performed energy efficiency work for active and occupied, highly-secure facilities.
FESCO® is a complete turnkey energy services provider for Federal Agencies and the regulated utilities that serve them. FESCO engineers, project manages, and builds complex energy and water projects that result in facility sustainment, retrofits and modernization of infrastructure using the latest technology and high-efficiency equipment with extended warranties (beyond what is commercially available) and guarantees of energy savings.
FESCO delivers 1,700 HP of critical compressed air systems for the Department of Defense 
FESCO® was selected to design and build a 1,700 HP compressed air system to ensure medical quality air at 90PSI to serve critical processes. The project included cyber security integration with the DOD closed-restricted network. The new compressed air system design provided primary and redundant operations/capabilities to limit single points of failure and was built without contributing new square footage to the base. The image below is a segment of one self-contained compressed air plant.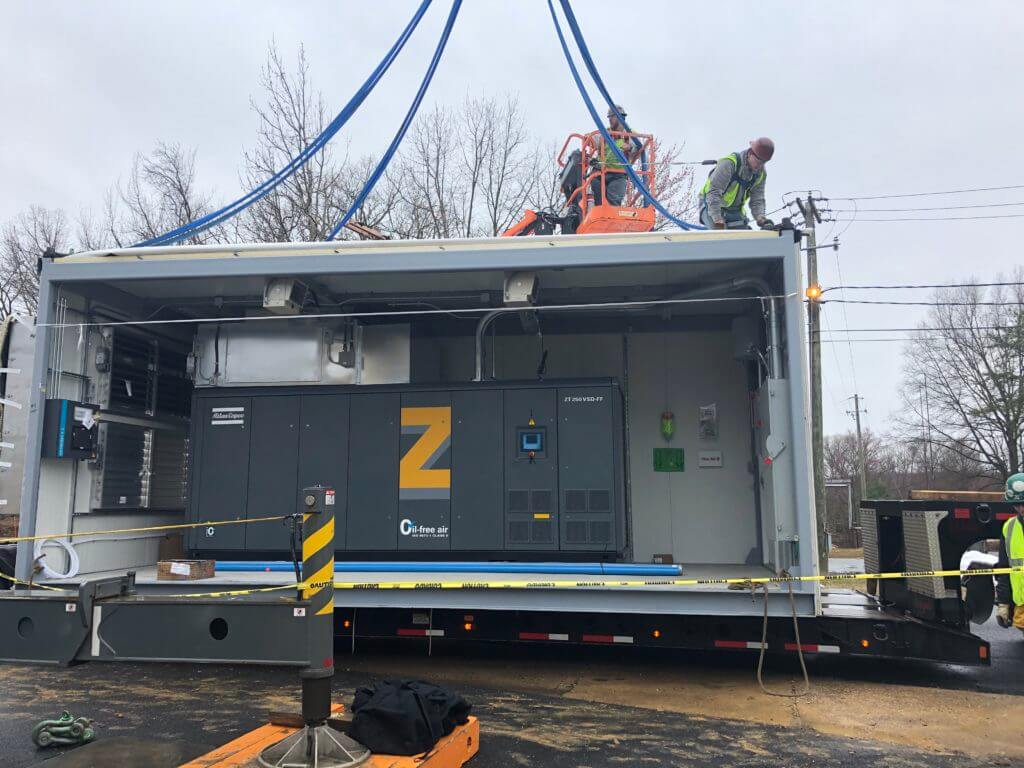 Creating built-to-last, cost-reductive systems, FESCO is a known performer for the Department of Defense thanks to its consistency in pricing, lack of change orders, and excellent schedule management. Our compressed air system approach allows for predictable operation and reliability in system functionality to ensure vital systems like those of the Department of Defense work at peak performance. Such skills are transferable across many industries, and FESCO is happy to build a plan customized to your needs to ensure the latest technology and high efficiency equipment works toward your energy savings.
Central Plant
Energy Systems
Energy Supply
Air as a Service
Water
Benefits
Of Working With FESCO
Requires zero capital (all development expenses are paid by FESCO®)
Off-balance sheet financing
Guarantees energy performance
Significantly reduces OPEX from electricity or liquid/gas fuel price volatility
Improves your business continuity, under any conditions
Reduces operating costs
Enables facilities to operate in island mode through black start and cyber secure designs— completely independent of the power grid
Enhances your reliability from possible grid outages or lengthy in-service dates
Increases energy resiliency
Provides energy dashboards for single or multiple facilities
Enables Energy Management Information Systems (EMIS) reporting of energy usage details, as needed by the Agency
Federal-centric with experience delivering energy projects for nearly all agencies that include direct awards, financed energy projects, direct appropriations, manufacturing, and service contracts
FESCO invests in the development of projects without customer (utility, government) obligations compliant with FAR 15.201 1.b
FESCO's joint venture with Alaskan Native Corporations 8(a)
Direct awards up to $100 million with DOD without a J&A
0 EMR
0 OSHA recordables
NAICS Codes needed for energy work